Dr. Henning Jensen MJI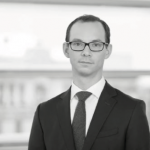 Contact details
Alberta iela 13
LV-1010 Riga
Latvia
Phone: +371 6777 0504
Fax: +371 6777 05 27
E-mail: henning.jensen@bnt.eu
Henning studied law in Germany and in France and holds a doctoral degree from the University of Hamburg he obtained for a thesis on European Economic law. Furthermore he holds a masters degree. During his legal clerkship he worked with a major international law firm and the European Commission (DG Markt).
Before joining the Riga office of bnt attorneys in CEE in 2015, he worked for a mid-sized German law firm with a focus on construction and insurance law.
His expertise covers international trade and customs law, construction law, day-to-day corporate law as well international and EU regulatory affairs. He is both admitted to the German and the Latvian bar. Henning is the author of various publications and a frequent lecturer in academics (Riga Graduate School of Law) and in business (Chambers of Commerce).