Simon Hirsbrunner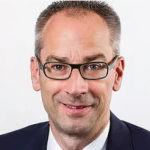 Simon Hirsbrunner advises businesses, associations, and governmental entities on EU regulatory requirements.  He focuses his practice on the financial services sector, where he works with financial institutions, banks, and re/insurers on EU regulatory, international trade, compliance, and tax issues.  Simon has particular experience advising Swiss companies and government services on EU regulatory issues, in particular in the financial services, energy, and aviation areas.   ​
Simon also advises on EU state aid and trade matters, as well as EU economic sanctions targeting specific countries such as Iran, Syria, and Russia.  He is a former European Commission case-handler and brings more than two decades of experience in EU affairs. ​
Simon is qualified in both Switzerland and Germany.  Prior to going into private practice, he worked at the European Commission (as a national expert) and has also served at the Legal Service of the Swiss Federal Office of External Economic Affairs, the European Free Trade Association, and the European Law Unit of the Swiss Federal Office of Justice.