Carlos Arola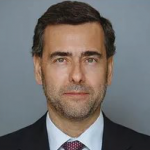 Contact details
Carrer Palaudaries 11-13
08004 – Barcelona
Spain
Phone : +34 933 249 494
Fax: +34 933 249 493
E-mail: carlos@arola.com
Carlos Arola is the CEO of Arola. After finishing his studies in Medicine, obtaining the Degree in Medicine and Surgery by the University of Barcelona, he changed his professional career to assume the direction of the family company.
He obtained the Professional Customs Agent qualification (Ministry of Finance, 31 January 1997) and a Master's degree in shipping business by the Nautical Faculty, Universidad Politécnica de Barcelona, 1998/99.
He forms part of the Board of the most relevant Spanish Trade Associations of Spain, as the Customs Agents Association of Catalonia, the Shipping Agents Association of Tarragona, and he has been member of the Board of Directors of the Port of Tarragona, to mention some of his most significant positions.
He regularly speaks at the University of Tarragona in all matters related to Customs and Trade Law.