Joanna Bogdańska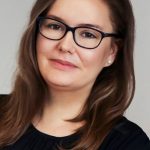 Contact details
KW Kruk and Partners Law Firm LP
14 Bł. Ładysława z Gielniowa Street
02-066 Warsaw, Poland
Phone : +48 601 830 633
E-mail: Joanna.bogdanska@legalkw.pl
Joanna provides comprehensive legal services to companies and other business entities in the field of, among others: ongoing corporate services, obtaining necessary permits and concessions, drawing up legal opinions, drafting contracts as well as negotiating them.
Her professional practice covers a wide spectrum of issues related to the liquid fuels sector, the energy industry and the defence sector.
She provides comprehensive legal advice in the field of customs law and customs procedures. Advises entrepreneurs on the transit, import and export of goods from / to Poland and European Union countries, as well as the classification of goods. Supports clients during customs control. Represent clients in proceedings before administrative courts, providing legal support at every stage of the customs proceedings.
Participates in conducting audits, including due diligence. She deals with the implementation of compliance procedures – solutions that allow to prevent and minimize irregularities and abuses related to running a business.
Advises in complex restructuring projects of companies, including mergers, transformations and divisions. Specializes in transaction advisory, with particular focus on mergers and acquisitions.
Represents clients in proceedings before state administration, local government authorities, common and administrative courts. She represents clients in cases before the President of the Energy Regulatory Office and the Court of Competition and Consumer Protection. In matters related to the award of public procurement, he represents clients both before the KIO and in common courts.
Author of numerous publications in the trade press. Speaker at numerous trainings and conferences.
Graduated Law and Postgraduate Studies of Public Procurement at the Faculty of Law and Administration of the University of Warsaw.
She is fluent in English and Russian.