Katarzyna Dawidziuk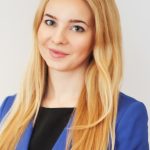 Specializes in civil law, commercial and economic law, in particular real estate law and corporate law.
Provides legal advisory to entities operating in the real estate and construction investment sectors. Focuses mainly on legal advice on real estate transactions and on current real estate management. Prepares contracts, legal opinions and represents clients in negotiations with contractors, creditors and litigants, both at the pre-litigation stage and during court proceedings.
She provides legal services in the field of customs law and represents clients before the customs authorities. She focuses mainly on classification and quotas, customs valuation, country of origin issues and appeals against customs decisions.
She has extensive experience in providing legal services to business entities with both Polish and foreign capital. Advises on ongoing corporate services for companies and other business entities, reorganization and restructuring of business entities.
Provides legal services related to liquidation and transformation processes, including division of companies.
Represents clients in court proceedings, providing legal advice at every stage of the dispute.