Dr. Peter Csoklich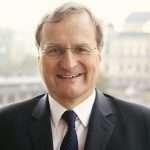 Contact details:
DSC Doralt Seist Csoklich Rechtsanwälte GmbH
Währinger Straße 2-4
1090 Vienna, Austria
Phone: +43 1 3194520 37
Fax: +43 1 3198322
Peter Csoklich is admitted to the Vienna Bar, practicing as lawyer and partner of the Vienna based law firm DSC Doralt Seist Csoklich, and honorary professor of the Vienna University of Economics and Business.
His main practice areas are litigation and arbitration, transport and insurance law and corporate. He is author of one of the leading commentaries on transport law in Austria and of numerous articles, especially in transport and corporate law matters as well as member of the board of publishers of "Juristische Blatter", the leading Austrian law journal as well as member of the scientific advisory council of "Spektrum der Steuerwissenschaften und des Aussenwirtschaftsrechts".
Career :
as of 11/2010 honorary professor of the Vienna University of Economics and Business
as of 1993 attorney at law with Doralt Seist Csoklich
as of 1983 lecturer for civil law, commercial and securities law as well as international transport law
1983 – 1988 assistant professor at the Department of Business Law/ Vienna Business School
1983 Mag.rer.soc.oec. (Vienna Business School)
1981 Dr.iur.(Vienna University)
Memberships:
Member of the Executive Committee of the Vienna Bar Association
Board Member of foundations
Member of the legal commission of the International Association for the representation of the mutual interests of the inland shipping and for keeping the register of inland vessels in Europe (IVR)