Sara Armella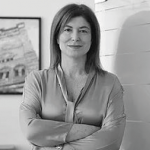 From 1993 to 2008 Sara Armella began her career working for Uckmar law firm after a bachelor's degree in law specializing in economics, awarded magna cum laude and right of publication by the University of Genoa in 1996 and a PhD. from the same University regarding a research in international and comparative tax law.
Member of the Genoa's bar association since 1996 and an Italian Supreme Court lawyer Sara is well known both in Italy and abroad joining the six leading tax litigation lawyer position in the "Top Legal" magazine lists since December 2013 for the selection "L'eccellenza del Tax in Italia". Writer of the encyclopaedia entry "Customs Law" (Treccani Encyclopaedia, 2015) is the author of the books "EU Custom's code" (BUP, 2017) and "Diritto doganale dell'Unione europea" (Bocconi University, 2017). Sara is also the writer of more than one hundred publications in tax and customs law.
Sara represents Italy in the Customs Trade Facilitation and Tax Commission of the International Chamber of Commerce of Paris. In 2003 attended as a speaker the seminary in international studies "Fisco e commercio internazionale" organized by the Austral University, the Universidad Católica of Salta , the Pontifícia Universidade Católica of San Paolo, the Enterprise Tax Research Centre of the Bocconi University in Milan and the Italian Latin-American Tax Law Association hold in Buenos Aires with a speech entitled "International trade exchanges and customs duties". In 2016 Sara awarded the title of "Academic of customs law" at the International Customs Law Academy – ICLA, in a legal association composed of only one hundred allowed members all over the world, worldwide experts in customs and international trade fields that each year promotes a topic event involving the major institution of this sector like WCO and WTO besides university professors, lawyers and consultants.
Keenote speaker of the World Customs Law Meeting organized by ICLA in September 2016, hold in Valparaiso (Cile), Sara has been the main promoter of the XIII Worldwide meeting of customs law also organized by ICLA hold in September 2017 in Rome at the Customs Administration Offices, participating as the General Speaker of the meeting with a speech over the agreements on the regional economic integration and the development of the international trade policies.
In March 2018 Sara attended, among the speakers, the Seminary entitled "Challenges of European and Latin American women: Digital Agenda and Access to Markets" organized by the Eurolat Women Forum (Euro-Latin American Parliamentary Assembly) hold in Bruxelles at the European Parliament.
Sara carried out research and teaching at the University of Genoa, at the State University of Milan and at the Catholic University of Milan.
In addition to her native Italian, Sara speaks fluent English and French.