Victor Guarch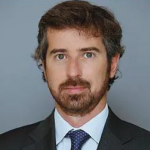 Contact details​
Carrer Palaudaries 11-13
08004 – Barcelona
Spain
​
Phone : +34 933 249 494
Fax: +34 933 249 493
E-mail: vguarch@arola.com
Víctor Guarch is the Legal and Tax Manager at Arola. Member of the Barcelona Bar Association, he is specialized in the field of Customs and Excise Duties, representing and assessing the most relevant companies and Trade Associations of Alcoholic Beverages and Hydrocarbons.
Victor combines his legal services to private customers and associations with his dedication in seminars and trainings in Universities (University of Tarragona, University of Alicante) and Chambers of Commerce and Trade Associations.
Victor is the Secretary of the Spanish AEO Association (Association of AEO companies) and the Secretary of the Private Foundation "Fundación Aduanera", aimed at the diffusion of the knowledge in Customs Law.